Our Teachers
Meet the teachers at The Music Garden!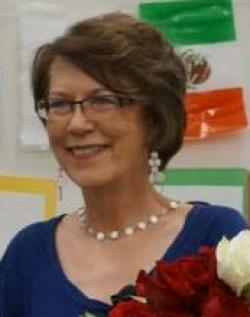 Leilani Miranda, BM, MM
Leilani Miranda has been involved in music education for over 40 years, specializing in early childhood music and movement for the last 30+ years. Holding a Bachelor of Music from Oklahoma City University and a Master of Music from the University of Houston, Ms. Miranda twice qualified for inclusion in Pi Kappa Lambda.

Ms. Miranda is certified Level III as an Early Childhood Music and Movement Specialist by the Early Childhood Music and Movement Association, of which she is a past President and an honorary lifetime member. Ms. Miranda has received intensive and ongoing training under the celebrated authors Lorna Heyge and Audrey Silick, as well as numerous other specialists in the early childhood and music education fields.

A national teacher trainer in early childhood music and movement, Ms. Miranda teaches at various seminars, institutes, colleges and universities in North America.

Since 1984, Ms. Miranda has had an active studio program in Houston, Texas where she works with 100+ families and their young children. Her studio and work have been featured on the local PBS station in Houston.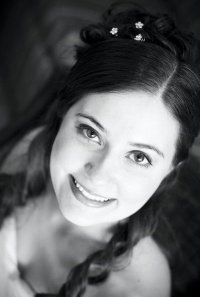 Emily Tallant, BME, MM
Emily Tallant has played flute and piccolo in the First Baptist Church Orchestra since 2007. She holds a M.M. degree in Music Education from the Moores School of Music at University of Houston, and a B.M.E. degree in Music Education (flute and voice) from The University of Tulsa. Ms. Tallant's involvement in the St. Louis Children's Choirs growing up inspired her to teach Middle School choir in Cypress Fairbanks ISD, where she taught for two years before pursuing her masters. She also taught private flute lessons in Cypress Fairbanks ISD, Alief ISD, & most recently at the School of Fine Arts at Houston's First Baptist Church. Ms. Tallant has been on the faculty of Floot Fire Houston since 2007 and has performed at Wildacres Flute Retreat, ARIA International Summer Chamber Music Academy, and Blue Lake Fine Arts Camp. She sings with Cantaré Houston, a professional choral ensemble. In addition to musical activities, Emily has enjoyed the freedom of owning her own business and was a Free-Car-Driver (twice!) with Mary Kay Cosmetics. Also Ms. Tallant is involved in the Houston Alumnae Chapter of the Sigma Alpha Iota Music Fraternity.

Ms. Tallant now has two small boys who are in classes at The Music Garden.

Ms. Tallant began teaching at The Music Garden the Spring 2017 semester under the mentorship of Leilani Miranda, owner/director. Ms. Tallant believes that involvement in music from a young age expands to growth in many other areas of children's lives and development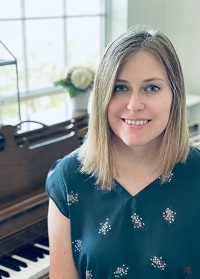 Samantha Eggenberger-Rembowski, BME
Samantha graduated in 2013 with a Bachelors Degree in Music Education (voice and piano) from Houston Christian University. She has been in performances with the Gilbert & Sullivan Society of Houston in the chorus of The Yeomen of the Guard (2008) and The Pirates of Penzance (2009). Samantha was also part of the Classical Music Festival in 2011, where she performed classical choral works in Eisenstadt, Austria and the surrounding areas. She has competed in Houston NATS, and has been a part of TMEA auditions since she was in middle school. By having the opportunity to sing in choirs from a young age, she sees the arts as a way to express yourself and to appreciate the path of self-growth through music.
Samantha has been involved in Musikgarten since 2019. She is licensed and qualified to teach Musikgarten classes of all ages. She believes spreading the joy of music-making encourages ways of communicating and connecting with others that is at the core of who we are. During her college career, she has taught at after-school music programs through Elite Music and Fine Arts. She currently teaches private piano at home and at Sugar Land Music School, where she prepares students through the ABRSM and RCM curriculum and piano exams. Her teaching also extends to St. Andrew's School of Fine Arts, where she provides piano and music classes for their day school and after school program. Ms. Sam (as her younger students like to call her) is happy to encourage, teach, and guide her students throughout their musical journeys.