Class Schedule
Click here for schedule as PDF
Click here to download Registration Form
Spring classes begin the week of January 22.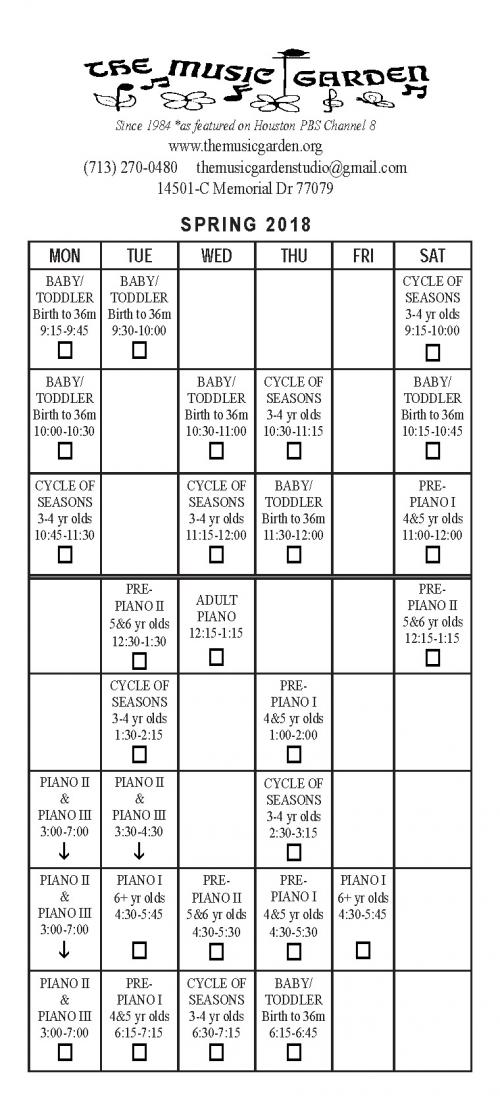 The Music Garden Studio
14501-C Memorial Dr.
Houston TX 77079 next to Baskin Robbins
....look for the white French door...
Ages of Children
Class Name/Days & Times
Birth-36 months
Family Music for Babies and Toddlers

Monday 9:15 to 9:45am
Monday 10:00 to 10:30am
Tuesday 9:30 to 10:00am
Wednesday 10:30 to 11:00am
Thursday 11:30 to noon
Thursday 6:15 to 6:45pm
Saturday 10:15 to 10:45am

Ages 3 & 4 Years
Cycle of Seasons

Monday 10:45 to 11:30am
Tuesday 1:30 to 2:15pm
Wednesday 11:15 to noon
Thursday 10:30 to 11:15am
Saturday 9:15 TO 10:00am


Ages 4 & 5 Years
Pre-piano I

Tuesday 6:15 to 7:15pm
Thursday 1:00 to 2:00pm
Thursday 4:30 to 5:30pm
Saturday 11:00 to noon


Ages 5 & 6 Years
Pre-piano II

Wednesday 4:30 to 5:30pm
Saturday 12:15 to 1:15pm

Ages 6-7 Years
Piano Level I

Tuesday 4:30 to 5:45pm
Friday 4:30 to 5:45pm


Prerequisite: Level I
Piano Level II

Wednesday 5:45 to 7:00pm Prerequisite Piano I

Ages 16 to 116!
Adult Piano Class

Eight weeks, one hour classes. Please phone or e-mail for specifics.